Diamond clarity is a quality of diamonds relating to the existence and visual appearance of internal characteristics of a diamond called inclusions, and surface defects called blemishes. Clarity is one of the four Cs of diamond grading, the others being carat, colour, and cut. Inclusions may be crystals of a foreign material or another diamond crystal, or structural imperfections such as tiny cracks that can appear whitish or cloudy.
The number, size, colour, relative location, orientation, and visibility of inclusions can all affect the relative clarity of a diamond. A clarity grade is assigned based on the overall appearance of the stone under 10x magnification.
Most inclusions present in gem-quality diamonds do not affect the diamonds' performance or structural integrity. However, large clouds can affect a diamond's ability to transmit and scatter light. Large cracks close to or breaking the surface may reduce a diamond's resistance to fracture.
Diamonds with higher clarity grades are more valued, with the exceedingly rare "flawless" graded diamond fetching the highest price. Minor inclusions or blemishes are useful, as they can be used as unique identifying marks analogous to fingerprints. In addition, as synthetic diamond technology improves and distinguishing between natural and synthetic diamonds becomes more difficult, inclusions or blemishes can be used as proof of natural origin.
Inclusions and blemishes
There are several types of inclusions and blemishes, which affect a diamond's clarity to varying degrees. Features resulting from diamond enhancement procedures, such as laser lines, are also considered inclusions and/or blemishes.
nclusions

Clouds
Feathers
Included crystals or minerals
Knots
Cavities
Cleavage
Bearding
Internal graining

Blemishes

Polish lines
Grain boundaries
Naturals
Scratches
Nicks
Pits
Chips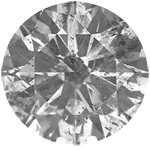 Some inclusions are visible to the
naked eye
The diamond industry uses the term "internal characteristics" instead of "inclusions". For natural diamonds, the "internal characteristics" in the diamond are growth crystals that give the diamond its character and unique fingerprint. When diamonds are graded they are magnified at 10x power.
Clarity Grading
agi uses the following clarity grading scale when certifying diamonds
Grade
Category
IF
Internally Flawless
LC
Loupe Clean
VVS1
Very Very
Slightly Included
VVS2
VS1
Very Slightly Included
VS2
SI1
Slightly Included
SI2
SI3
I1
Included
I2
I3
The agi diamond grading scale is divided into six categories and twelve grades. The clarity categories and grades are:
Flawless category (FL) diamonds are those with no inclusions or blemishes visible under 10x magnification.
Internally Flawless category (IF) diamonds have no inclusions visible under 10x magnification, only small blemishes on the diamond surface.
Very, Very Slightly Included category (VVS) diamonds have minute inclusions that are difficult for a skilled grader to see under 10x magnification. The VVS category is divided into two grades; VVS1 denotes a higher clarity grade than VVS2. Pinpoints and needles set the grade at VVS.
Very Slightly Included category (VS) diamonds have minor inclusions that are difficult to somewhat easy for a trained grader to see when viewed under 10x magnification. The VS category is divided into two grades; VS1 denotes a higher clarity grade than VS2. Typically the inclusions in VS diamonds are invisible without magnification, however infrequently some VS2 inclusions may still be visible to the eye. An example would be on a large emerald cut diamond which has a small inclusion under the corner of the table.
Slightly Included category (SI) diamonds have noticeable inclusions that are easy to very easy for a trained grader to see when viewed under 10x magnification. The SI category is divided into three grades; SI1 denotes a higher clarity grade than SI2 and SI2 higher than SI3. These may or may not be noticeable to the naked eye.
Included category (I) diamonds have obvious inclusions that are clearly visible to a trained grader under 10x magnification. Included diamonds have inclusions that are usually visible without magnification or have inclusions that threaten the durability of the stone.
The I category is divided into three grades; I1 denotes a higher clarity grade than I2, which in turn is higher than I3. Inclusions in I1 diamonds often are seen to the unaided eye. I2 inclusions are easily seen, while I3 diamonds have large and extremely easy to see inclusions that typically impact the brilliance of the diamond, as well as having inclusions that are often likely to threaten the structure of the diamond.
Learn more about Diamonds​