Diamond Grading Report - DGR
Our flagship product, the agi Diamond Grading Report is an A4 sized certificate with full details of the Carat, Colour, Clarity and Cut of the diamond including the measurements, fluorescence and an accurate plotting of the inclusion, which make the grade, on a facet diagram.
agi – Bringing you old fashioned expertise with modern technology
This gives you the information you need to correctly price the diamond and is an essential tool for identifying diamonds.
Using our comparison charts which are now a world standard for Colour, Clarity, Proprtions and Finish to enable you to see the grades of the diamond at a glance.
With our new Cut grade, which enables you to see the fire and brilliance of the diamond this enhances your knowledge of your diamond.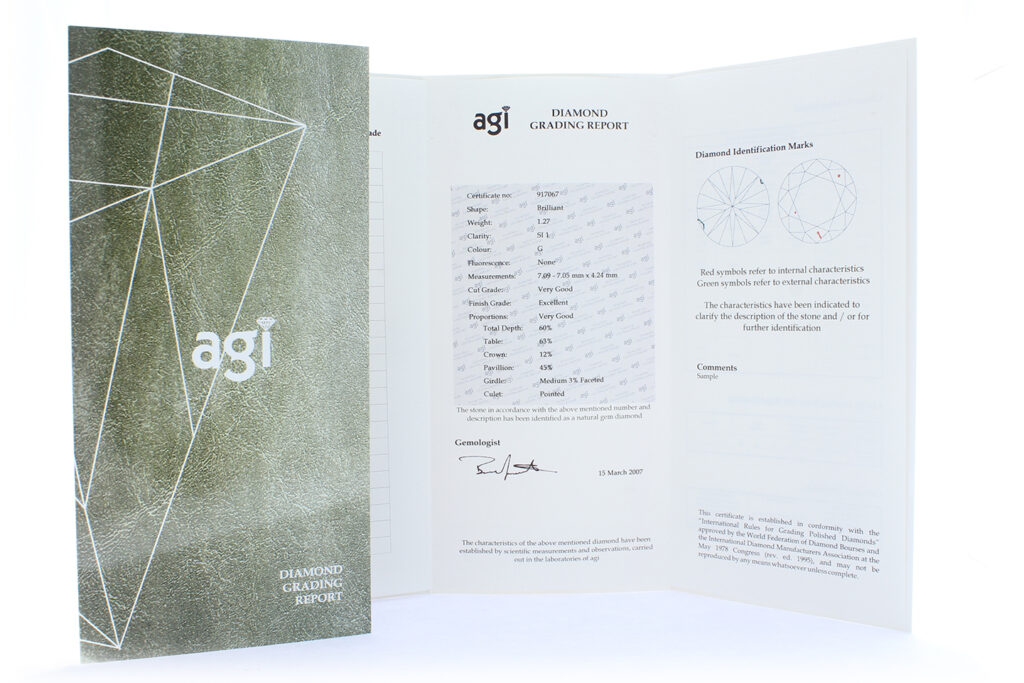 With the ever increasing production of "synthetic", "man-made" or "non-mined" diamonds it is now essential to have an agi report with all your diamonds to correctly verify the source of your diamonds
agi offers a range of certification services, including a customised diamond sealing service and valuation reports, all of which are graded according to industry standards.
Check our available report with the links below.