Diamond Dossier Report - DGD
The agi Diamond Dossier offers the same grading information as the Diamond Grading Report but without the plotted diagram.
agi issues the Diamond Dossier for loose, natural diamonds in the D-to-Z colour range. The Diamond Dossier is not issued for laboratory-grown diamonds, simulants, mounted diamonds, and diamonds that have undergone unstable treatments such as fracture filling or coating. Any evidence of treatment is disclosed in the report.
The agi Diamond Dossier includes an assessment of the 4Cs – Colour, Clarity, Cut (shape) and Carat. Also included is the finish of the diamond.
A handy credit card sized durable card.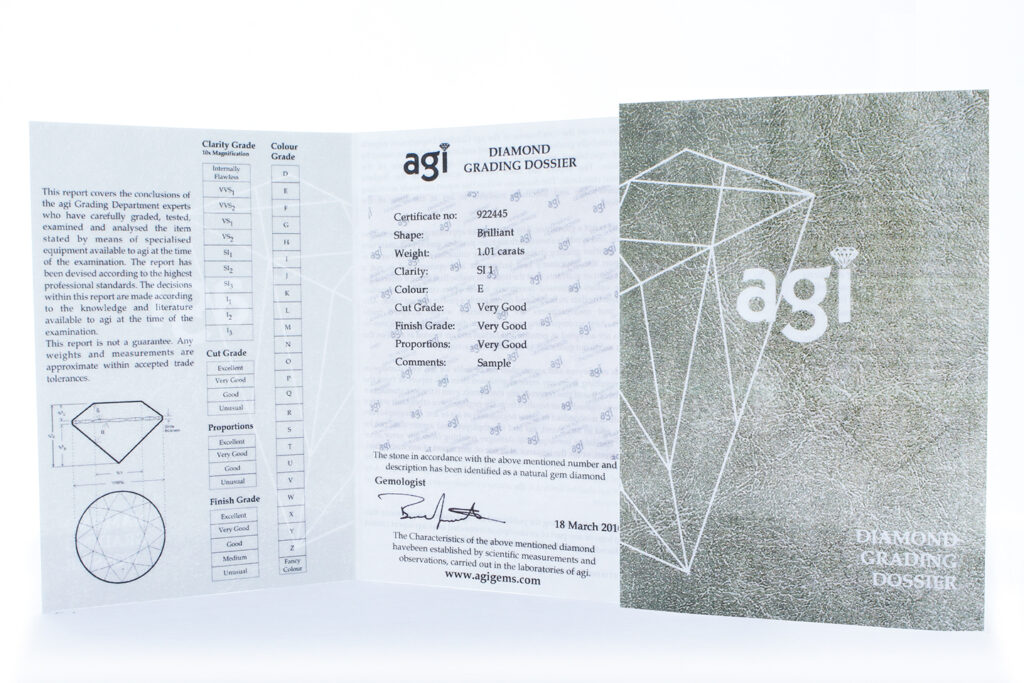 Whilst clear and easy to understand, it provides concise details about your diamond
4C's grading in a clear, easy to understand format
Presented in a high quality presentation wallet
The Diamond Dossier comes in a handy pocket sized Mini Report.
agi offers a range of certification services, including a customised diamond sealing service and valuation reports, all of which are graded according to industry standards.
Check our available report with the links below.