The Black Prince's Ruby. The Timur Ruby. For centuries, spinel, the great imposter, masqueraded as ruby in Europe's crown jewels.
Spinel Description
Spinel, like garnet and diamond, is singly refractive, with the same physical properties in all crystal directions. It belongs to the cubic crystal system, and its characteristic crystal shape is an octahedron, which looks like two back-to-back pyramids. Well-formed spinel crystals are fairly common in nature.
Spinel can also form flattened crystals that look radically different from octahedral crystals. The flattened shape occurs when the pyramids that form an octahedron rotate against each other during growth. Scientists describe this as a "twinned crystal." Large gems cut from good-color twinned crystals are typically shallow, and should be judged on their overall beauty rather than on proportions alone.
The spinel used in jewelry is a small part of a group of minerals that share the same crystal structure. Not all of them form transparent crystals suitable for jewelry use, however. Spinel offers a range of hues, from orange to intense "stoplight" red, vibrant pink, and all shades of purple, blue, and violet through bluish green.
Intense reds and pinks are caused by traces of chromium. The higher the chromium content, the stronger the red hue. Orange and purple stones owe their color to a mixture of iron and chromium.
Violet to blue spinel can be colored by trace amounts of iron, and vibrant blues owe their saturated color to trace amounts of cobalt.
 Gemstone Details
Mineral:   spinel
Chemistry: MgAl2O4
Color: red, orange, pink, purple, blue, black
Refractive index: 1.718
Birefringence: none
Specific gravity: 3.60
Mohs Hardness: 8
 Birthstones and Anniversaries
 Spinel was recently added as an August birthstone, sharing this month with peridot and sardonyx. It has long been mistaken for ruby by emperors and monarchs. Many of the famous "rubies" of history were actually spinels.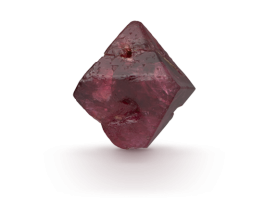 Spinel History and Lore
Spinel is a good candidate for the title of "History's Most Underappreciated Gem." Some ancient mines that supplied gems for royal courts from Rome to China produced spinel, but it was usually confused with better-known stones like ruby and sapphire.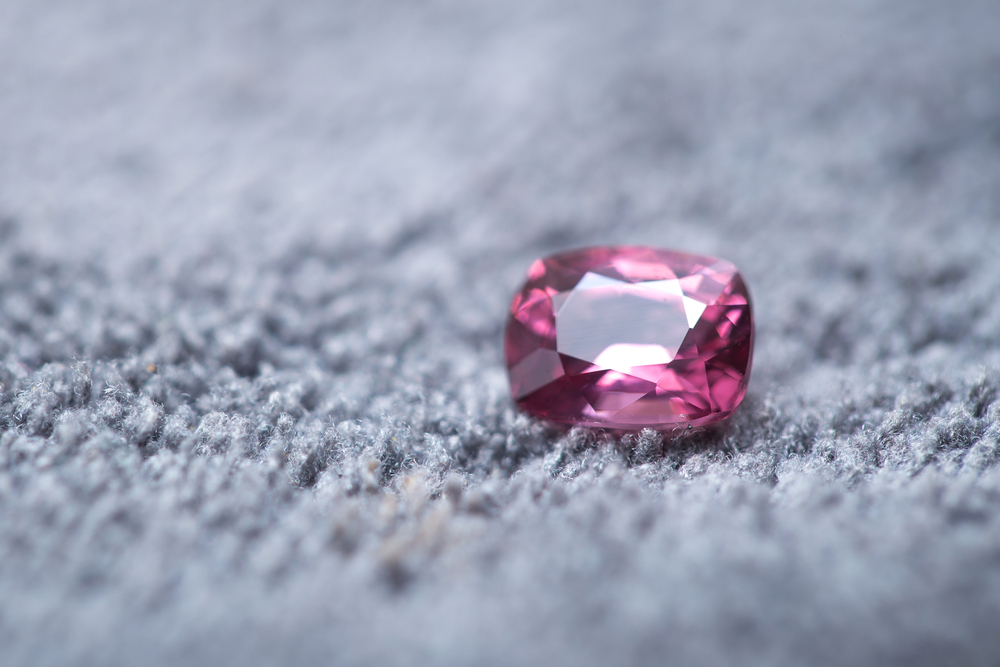 In ancient times, the mines of central and southeast Asia yielded exceptionally large spinel crystals. These fine stones became known as Balas rubies, and some of them were the treasured property of kings and emperors, often passing through many hands as spoils of war. As a result, some of the world's most illustrious "rubies" are actually spinel.
One of the most famous examples is the so-called "Black Prince's ruby." This historic crimson-red gem is set in England's Imperial State Crown and displayed in the Tower of London.
 Smoothly polished and roughly octagonal in shape, it was probably mined in the mountains of Afghanistan. It first appeared in the historical records of fourteenth-century Spain, and was owned by a succession of Moorish and Spanish Kings before Edward, Prince of Wales—the "Black Prince"— received the stone in 1367 as payment for a battle victory.
Since then, many other English monarchs—including Henry VIII—have cherished the gem. It's outlasted them all, surviving fires, attempted theft, and World War II bombing raids, to become—with the Koh-i-Noor diamond—one of the centerpieces of England's Crown Jewels.
Another large spinel in the Crown Jewels, the "Timur ruby," weighs over 350 carats. It, too, has a checkered history. Several Persian inscriptions carved into the gem testify to its age.
Modern technology hasn't helped spinel's confused identity as far as the general public is concerned. This is due largely to the widespread use of synthetic spinel as an imitation for many other gems. Most customers aren't even aware that there's a natural version of the stone.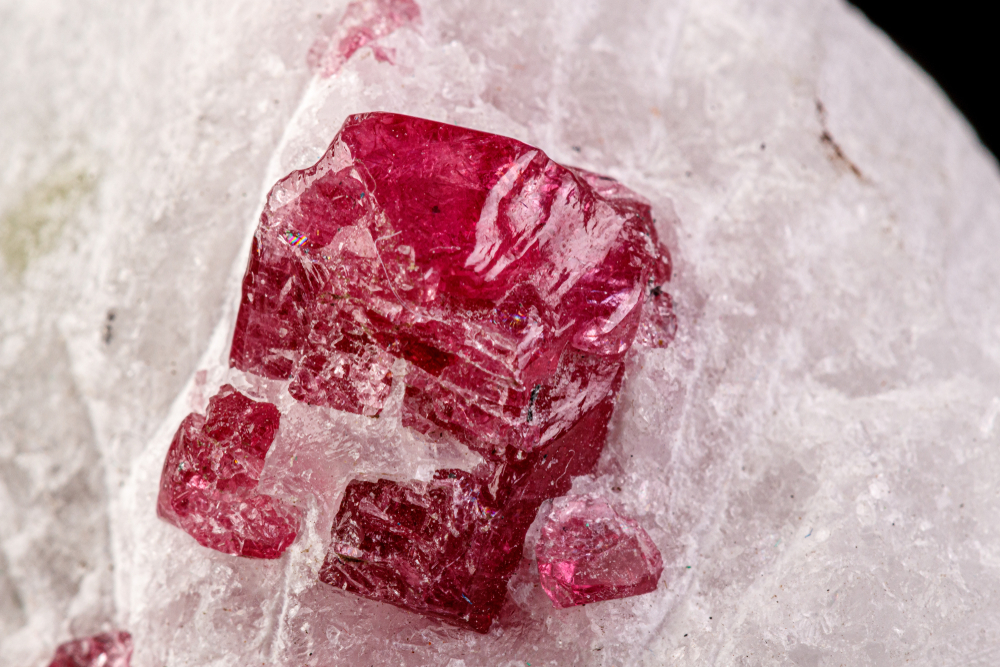 Facts about Spinel Gemstone
STUNNING COLOR
Singly refractive and often very transparent, red spinel rivals ruby's color but it costs much less.
AMAZING CHROMIUM
Red spinel is colored by chromium, the same trace element that colors ruby and emerald.
BIRTH OF GEMOLOGY
Distinguishing spinel from ruby gave birth to the science of gemology.
COLOUR
The most valued spinel colors are bright red, cobalt blue, and vivid pink and orange. Pale lavender is more affordable.
CLARITY
Spinel with no visible inclusions is preferred. The more prominent the inclusions, the less valuable the gem.
CUT
Spinel is most often cut in cushion and oval shapes. When properly proportioned it has excellent brilliance.
CARAT WEIGHT
Fine-color spinel is rare above five carats. Most fine-quality rough is cut to non-standard sizes to save weight.